In Memory
Ronald Swadley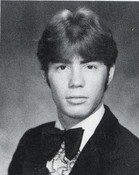 Rest in peace, Ronald.
THE ORLANDO SENTINEL - Sunday, February 2, 1986
RONALD ALLEN SWADLEY , 22, 1301 Charles St., Orlando, died Thursday. Born in Warner Robins, Ga., he moved to Orlando from there in 1969. He was a private first class in the U.S. Army and a Protestant. Survivors: mother, Judith, Orlando; father, Richard, Casselberry; brother, Kevin, Longwood; stepbrother, Erik Eriksen, Longwood; paternal grandparents, Mr. and Mrs. Fred Swadley , Charleston, W.Va.; Woodlawn Funeral Home, Orlando.