In Memory
Daniel Parramore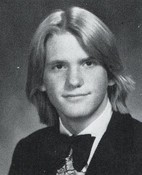 Rest in peace, Daniel.
THE ORLANDO SENTINEL - Wednesday, February 28, 1990
DANIEL
M.
PARRAMORE
, 26, 6105 Merriwood Drive, Orlando, died Sunday. Born in Gainesville, he moved to Orlando from there in 1974. He was an
electronic technician
for the Navy. He was an active member of the Navy for 7 years. He was a Protestant. Survivors: mother, Helen Twigg, Orlando; father Robert J. Twigg, Orlando; brothers, Jonathan, Astatula, Brian, Orlando; sisters, Jennifer, St. Petersburg, Aimee, Astatula, Emily Randall, Orlando; maternal grandmother, Helen Tooker, St. Petersburg; patern al grandfather, Ivor Twigg, Cleveland. Baldwin-Fairchild Funeral Home, Orlando.